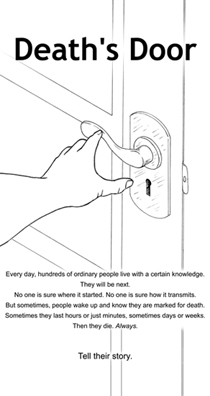 Death's Door
Death's Door is a cool game that is meant to
cause the people who play it to examine death.
-Clyde
Death's Door is a role-playing game for 3 to 5 players in which the players around the table take on the roles of people who, for no explained reason, know they are going to die.
Because this is nigh-unto the most frequent question: It's 32 pages, B&W, 8.5 x 5.5, plain paper saddlestitched.
Some resources you may find helpful: Actual play report from Forge Midwest, Blank protagonist and antagonist sheets, and a demo kit, with everything you need to demo the game to interested parties.
Also, the totally awesome guys over at Sons of Kryos recorded a podcast of me running a demo* for them at the forge booth for Gencon 2006. It's pretty close to exactly 15 minutes, and also has us chatting a bit about the game at the end.
*note: link opens an MP3 recording
You can either purchase Death's Door via the Paypal link below, or via Indie Press Revolution. I really suggest that you check out IPR if you haven't before - they have a lot of really high quality games from some of the top indie publishers around.